Sometimes The Electricity Fails - O. Winston Link
Very naturally, after
Richard Steinheimer
, the next great photographer I "discovered" was O. Winston Link. The two men are sometimes mentioned in the same breath. Link, however, achieved far more recognition and commercial success than Steinheimer.
Hotshot Eastbound - O. Winston Link
O. Winston Link was born in 1914. He grew up in New York City. He began photographing before he was even in high school, using a borrowed Kodak Autographic camera. After high school Link attended the Polytechnic Institute of Brooklyn, where he studied engineering and served as the photographer for the school newspaper.
After graduation, O. Winston Link was immediately hired by public relations genius Carl Byoir as a photographer. It wasn't long before Link's photographs began to be published in major magazines, such as
Life
. In 1946 Link opened his own studio in New York City.
In 1955 O. Winston Link began a personal project that would include what would become his most well-known images. Link began photographing the Norfolk & Western Railway's steam locomotives at night in Virginia and West Virginia. The Norfolk & Western was the last major railroad to use steam locomotives.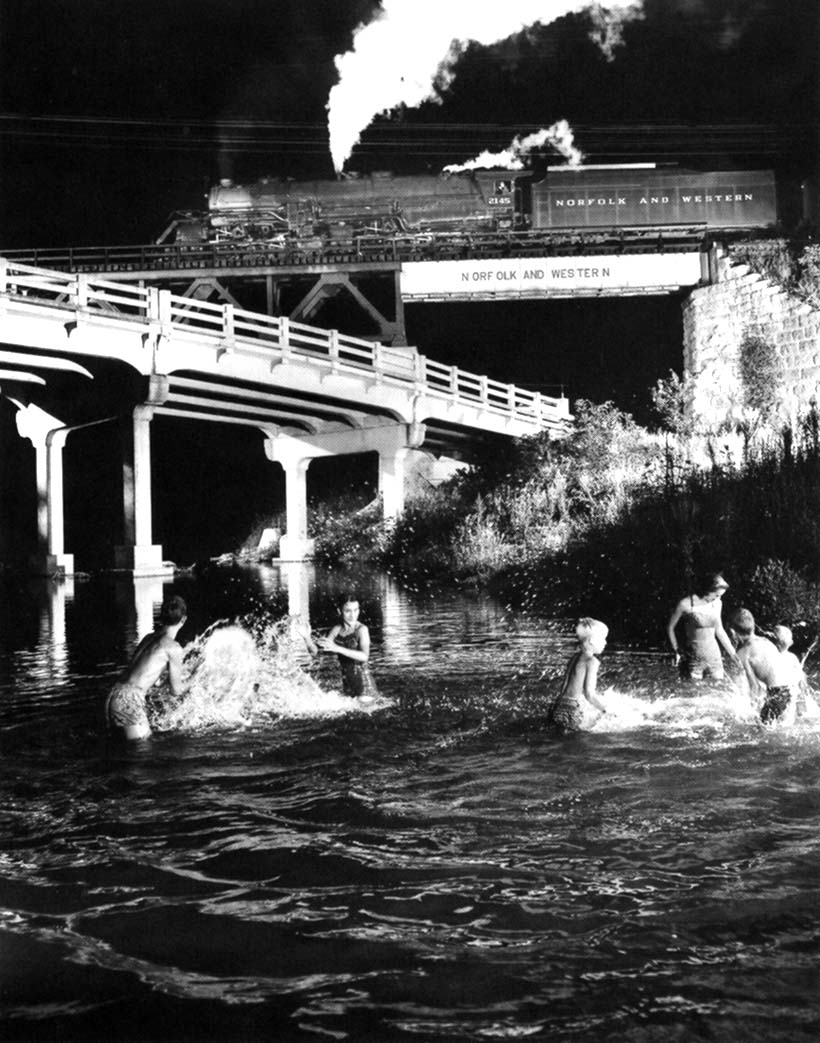 Hawksbill Creek Swinging Hole - O. Winston Link
Link's photographs were posed. They were heavily orchestrated, often with the collaboration of the railroad and locals. He used complex lighting systems to illuminate his photographs, which sometimes included over 40 flashbulbs.
The pinnacle of the project was between 1956 and 1959, although Link continued to work on it sparingly until 1977. He also made audio recordings of the trains, which were made into a vinyl record entitled
Sounds of Steam Railroading
. Some of these recordings were used in Hollywood for sound effects.
Link had a couple personal projects after this, including the construction of the Verrazano-Narrows Bridge and ocean liners. These would not become nearly as widely know as his railroad images.
In 1983 O. Winston Link retired from photography. He had a small role in the 1999 movie
October Sky
. In 2001 he suffered a heart attack and died. In 2004 the O. Winston Link Museum opened its doors in Roanoke, Virginia, keeping his work alive for future generations to enjoy.
Birmingham Special At Rural Retreat - O. Winston Link
What I learned from Link is that photographs can be whatever you want them to be. A photograph begins in the photographer's mind. It is the photographer's imagination that makes an image what it is. The only limitation is the photographer himself.
Nothing is impossible in a photograph. Whatever you can dream of can become a photographic image. It may take a lot of work. It may not be easy, but it can be done.
O. Winston Link was a visionary. He did things with his photography that others had not done before. His night photographs were amazing accomplishments. He made it all happen. He orchestrated it and pulled it off with perfection. Anything was possible.